On November 15, Bitcoin Cash will undergo a contentious hard fork. Here's what you should know.
The Bitcoin Cash (BCH) blockchain will undergo a scheduled upgrade or "hard fork" on November 15, 2020. This event involves a long-standing debate between factions within the Bitcoin Cash community, each with different plans for the cryptocurrency. This is what can be expected to happen over the coming week.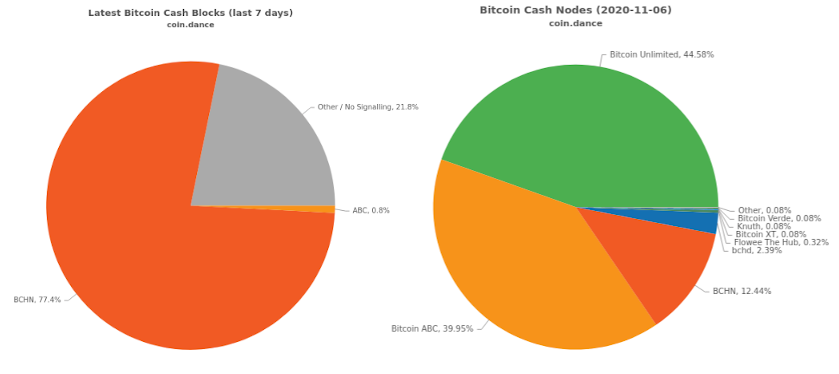 Industry & Miner Support
Various cryptocurrency companies have taken a position on the matter. Several major mining pool operators have chosen to support BCHN and oppose the IFP, including Binance, OKEx, Btc.top, Huobi, F2Pool, and Bitcoin.com. As mining pool operators, these companies have an interest in supporting the more popular faction.
It should be noted that some of these companies also run exchanges, and the same companies have not taken sides when it comes to trading. Binance, Huobi, OkEX, FTX, Gate.io, and Poloniex plan to support both versions of Bitcoin Cash at least temporarily, giving investors a chance to receive a forked Bitcoin Cash token if one emerges.
Other companies are taking hard-line stances against the results of a split. Crypto exchange Coinbase and hardware wallet manufacturer Trezor have stated that they will support only the dominant coin―most likely BCHN.
Will There Be a New Coin?
There are various ways that next week's fork could play out. Though the fork could be prevented, it is unlikely that the two factions will resolve their differences at this point.
Instead, the fork will almost certainly produce two Bitcoin Cash tokens, BCHN and BCHA. The lesser coin will be airdropped to current holders. Bitcoin ABC explains: "After the chain split, BCH owners will receive both BCHA and BCHN. For every 1 BCH you own before the upgrade, you will own 1 BCHA and 1 BCHN after the upgrade."
However, it is possible that the secondary chain will not survive long enough for the lesser BCH token to be useful. Though the exchanges listed above say that they will distribute the new coin to current holders, they have not guaranteed that they will list both coins for general trading. Each coin's market value depends on investor demand and miner profits, two things that are not yet clear.
Bitcoin Cash holders who want to ensure that they have access to the Bitcoin Cash airdrop should hold their funds in a non-custodial Bitcoin Cash wallet or an exchange that is cooperating with the airdrop.
The Future of Bitcoin Cash
Next week's fork will have long-term implications for Bitcoin Cash. The event will add to its divisive reputation: Bitcoin Cash was originally forked from Bitcoin in 2017, and it produced another fork called Bitcoin SV in 2018. If the project continues to experience internal division, Bitcoin Cash could be increasingly seen as a risky investment.

At the same time, Bitcoin Cash has managed to maintain its position as a leading cryptocurrency. Currently it stands at #5, boasting a market cap of $4.7 billion. The fact that it has survived for three years is a good sign for its supporters, and various improvements will help it stay relevant despite its issues.
bitrates.com
Bitcoin Cash's 2020 Hard Fork: Everything You Need to Know