Despite what some laser-eyed zealots might have you believe, Bitcoin wasn't designed to eliminate central banks from the economic picture, and Bitcoin may one day help banks acquire many tools they currently wish they had.
The final panel of Day 1 of the CoinGeek Conference in Zurich featured a lively discussion of The History of Money & The Future of Bitcoin. The quartet of monetary minds sharing their views were Urs Birchler, Professor of Banking, IBF, University of Zurich; Dr. Jürg R. Conzett, Founder & President, MoneyMuseum; Thomas Moser, Alternate Member of the Governing Board, Swiss National Bank; and Dr. Craig S. Wright, Chief Scientist, nChain.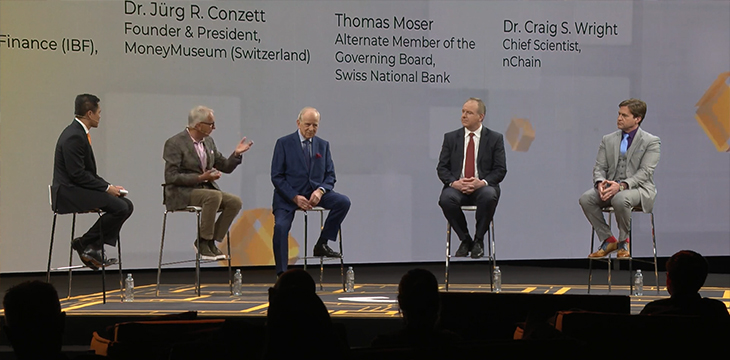 Moderator and Bitcoin Association Founding President Jimmy Nguyen got things started by querying the panel on how important it was for any form of money to serve one or more of the following functions: a medium of exchange, a unit of account, a store of value or a standard of deferred payment.
Conzett noted that an item may embody three of those qualities without functioning as money, while Moser claimed the unique feature of money was as a medium of exchange. Other assets can serve as a store of value but ultimately, money is what people accept as payment in exchange.
CoinGeek Zurich takes a look at the History of Money and Future of Bitcoin