The waters of transparency issues have been stirred with Ethereum co-founder Vitalik Buterin saying that the Ethereum Foundation (EF) sold ETH 70,000 at the top. It was worth c. USD 100 million at the time, and less than USD 10 million today.
"I did get the Ethereum Foundation to sell 70,000 ETH like basically at the top, and that's doubled our runway now, so it was one good decision that had a lot of impact," said Buterin in an interview with Eric Weinstein, the managing director of investment firm Thiel Capital.
Price chart: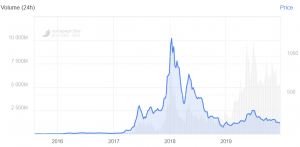 However, not everybody saw Buterin's statements in the positive light as it got some to wonder about the transparency of both the EF and the co-founder, finding they failed at it.
This prompted an interesting discussion on this issue, found, for instance, in the twitter thread by Eric Conner, a product researcher at blockchain startup Gnosis and longtime Ethereum advocate, which starts with: "Imagine thinking it's a poor decision for the EF to sell the top and fund development work. Lol." He also said that he'd appreciate more transparency, but that "it's just not gonna happen. So people need to account for that when buying ETH if they think it matters."
Ethereum Foundation USD 100 Million Deal Raises Transparency Questions