Africa's digital currency industry has been the fastest-growing in 2020, with the continent finally waking up to the vast opportunities that digital currencies offer. Led by Nigeria, Kenya and South Africa, the continent is now making its mark in the global digital currency map.
While 2020 has been the year when Africa has exploded as a digital currency market, the progress has been steady for the past few years. In a study conducted by social media management company Hootsuite in February 2019, South Africa ranked first globally for digital currency owners relative to internet users, ahead of Thailand and Indonesia.
Nigeria also ranked first globally for Google searches for Bitcoin in 2019, as we noted in our end-of-year review for digital currencies in Africa.
In the latest Chainalysis report, three African countries rank in the top 10 in the global digital currency adoption index.
The rapid growth of the industry has led to the need for regulations. For most African governments, digital currencies were an industry they were willing to ignore. However, this wait-and-see approach is being challenged by the surge in adoption of digital currencies.
Just two years ago, of the 39 countries in Sub-Saharan Africa, only South Africa and Swaziland had a favorable (but not outright legal) stance on digital currencies. A study conducted by leading pan-African bank Ecobank found that 21 of these countries had no public stance, with 9 having a contentious stance while 6 claimed to be conducting research on digital currencies.
Since then, millions of Africans have adopted digital currencies. As Chainalysis recently revealed, between July 2019 and July 2020, Africa transacted $16 billion worth of digital currencies.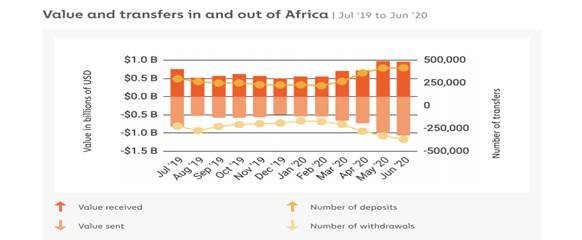 African digital currency trading platforms have backed up this data, revealing that 2020 has been a record year for them, both in new user registrations and trading volume. Additionally, Africa has been relying on digital currencies to make transactions and not just for speculation. The region had the highest share of retail-sized transfers in the world, proof that most Africans are turning to digital currencies to evade the expensive legacy financial systems.
South Africa has been the regional leader, with the use of digital currencies in day-to-day transactions rivaling that of more developed Western nations. Johannesburg-based Centbee has been the leader in availing Bitcoin to the retail market. The Bitcoin wallet now allows its users to pay for their Netflix, buy electricity vouchers, pay for Uber rides, buy music online, pay for their PlayStation accounts and purchase prepaid mobile airtime, all with Bitcoin SV. What's more, uses can also withdraw their Bitcoin directly into their bank accounts.
African regulators can no longer stand on the sidelines—this much is clear. An industry this big must be regulated to protect the investors. However, finding the balance between investor protection and promoting innovation has proven a tough task for most countries.
The digital currency industry in Africa is welcoming of regulations, with many of the belief that it could be the much-needed factor that could spark widespread adoption. In most countries, citizens still believe that their governments are anti-Bitcoin.
In Kenya, for instance, the central bank has in the past related digital currencies to pyramid schemes and constantly reminded the public that digital currencies are not legal tender. High-profile scams in the industry haven't helped either.
Regulations could rid the industry of these negative associations, according to Stephany Zoo, the marketing director of AZA. Formerly known as Bitpesa, the Nairobi-based exchange has raised $15 million from investors, the most of any digital currency startup in Africa.
Zoo told Quartz Africa, "It is important that the space is regulated and properly guided by the financial authorities to ensure confidence and protection of the consumer. When you do that, it feeds back into the ecosystem and encourages innovation around this specific technology which there's always been so much grey area around."
Lorien Gamaroff, the Centbee co-founder is of a similar mind. During his presentation at the CoinGeek London Conference in February 2020, Gamaroff revealed that Centbee's success has been partly due to its relationship with regulators. He further urged other Bitcoin businesses in Africa to engage with the regulators more as this is the only way can take on the traditional financial services providers.
Regulating the industry will also open up integration opportunities with the traditional financial system. Banks and other financial service providers are heavily regulated and thus, only deal with firms that are regulated as well, Zoo added.
However, despite the need for regulations, some are skeptical, especially given African governments' history in regulating emerging technology. While the continent has some of the brightest innovators, many innovations never see the light of day, and even if they do, they don't live up to their full potential.
One of the reasons is the lack of enabling regulations in most African countries.
Luno General Manager for Africa Marius Reitz cautioned, "What we'd like to see is a phased approach. It can be very easy for regulators to want to regulate the entire industry from the onset but it could stifle innovation."
coingeek.com
Protecting investors vs. promoting innovation: A dilemma for Africa