This top crypto asset has gained traction since falling in March. Our chartist looks at key scenarios.
Ethereum (COIN:ETHUSD)
A glaring hole in the logic with crypto currency comes from massive swings in value.
Imagine selling your central London garden shed for 500 bitcoin, valuing it at around $5 million (£3 million).
Within a few weeks, the rate changes and you've just let your shed go for $2.5 million instead.
As a result, instead of being a property speculator you've just become a crypto speculator.
This level of risk is obviously present with any international transaction.
A chum, who imported staircases to the UK from Italy, would regularly check euro movements with us before paying his supplier.
Sometimes he'd be wisest paying invoices early, and at other times delaying a few days which could make a substantial difference to the bank transfer.
But as crypto currency is an ideal way to hide ill-gotten gains, selling and buying physical items certainly implies a risk quite far beyond the taxman's remit.
Ethereum price movements certainly look worth some consideration, if considering using a stash of them to purchase something.
At present, movement above $450 looks very capable of accelerating the value to $495 next, where, visually, some hesitation looks possible. 
If exceeded, things become rather more interesting as our secondary price level calculates up at $642.
In fact, with closure one day above $495, the longer-term attraction works out at $824.
If it all intends to go wrong, Ethereum, trading at $411 at time of writing, needs to slip below $300 to ring the first warning bell for reversals coming.
We suspect, if you're about to purchase a discrete Van Gogh with Ethereum, it may prove worthwhile waiting a few weeks.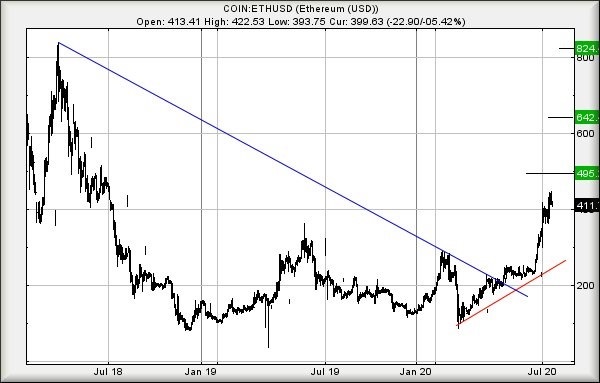 Source: Trends and Targets Past performance is not a guide to future performance
www.ii.co.uk
Where next for volatile Ethereum pricing?